All of the information on this release was found
here
Sol - 1974 - Sol de Chile
El grupo Sol se formo en Argentina tras el golpe militar. Estuvo liderado por Antonio Smith (ex Congregacion), Matias Pizarro (ex La Costanera) mas otros jazzistas chilenos. Fusiono el rock, el jazz y el folklore andino interpretando temas propios con temas cedidos de Illapu y Los Jaivas.
Si bien para algunos puristas el resultado puede ser discutible, considero que es un documento imprescindible para comprender el rock en esa epoca.
.
01 Aiquina
02 Abre la puerta amigo
03 Escucha gringo
04 Himno para un canto amigo
05 Solo por una imagen
06 Me muero por ti paloma
07 Hay cielos para tu libertad
08 Hay un corazon que esta
09 Poderoso10 Eclipse
.
Integrantes:
Antonio Smith - canto, guitarra
Matias Pizarro - piano, percusion
Enrique Luna - bajo
Miguel Angel Taborda - bateria, percusion
Fredy Anrique - flauta, percusion
Alejandro Rivera - charango, quena
===================
All of the information from this release came from
here
Congregacion - 1972 - Congregacion Viene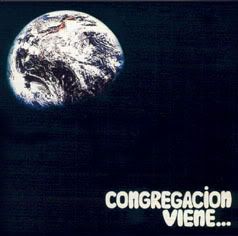 Surgidos en Valparaíso bajo la creatividad de Antonio Smith, su único disco es una mezcla de plácidos sonidos, llenos de mensajes positivos e idealistas, de amor a la naturaleza y al hombre en sí mismo. En lo musical desarrollan un estilo que mezcla el folclor, la sicodelia y lo progresivo. Si bien la banda no logró reconocimiento masivo en el país, Antonio Smith cantó en el Festival de Viña del Mar, aunque ante la apatía general de los espectadores y de la prensa.
Antonio Smith, el compositor de todos los temas de la banda, continúa trabajando como solista realizando música no comercial y más tarde produce -como era de esperarse- música New Age bajo el nombre de Awankana.
(Tony Littlewolf en http://www.archivorock.cl/)
.
01 Estrecha a tu hermano
02 Arrebol
03 Mentes preñadas de amor
04 Sintesis de la existencia
05 El dulce espititu de la soledad - Ama la muerte hermano
06 Tanto parcelamiento
07 Ecliptica
08 Atrapados por un pensamiento
09 Fantastico
10 Cosas que suceden
11 Cuantos que no tienen y merecen
12 Mengano
13 Y regresaras a tu cuarto (Antonio I)
.
Integrantes:
Antonio Smith - voz, coros, guitarra raglia, plectrofono, megafono, autor y arreglos
Alejandro Rodriguez - coros, guitarras 6 y 18 cuerdas y armonica
Alberto Pradas - coros, bajo electrico y guitarra
Baltazar Villaseca - Coros, percusion y guitarra
Carlos Vittini - coros, flauta, maracas y pandero