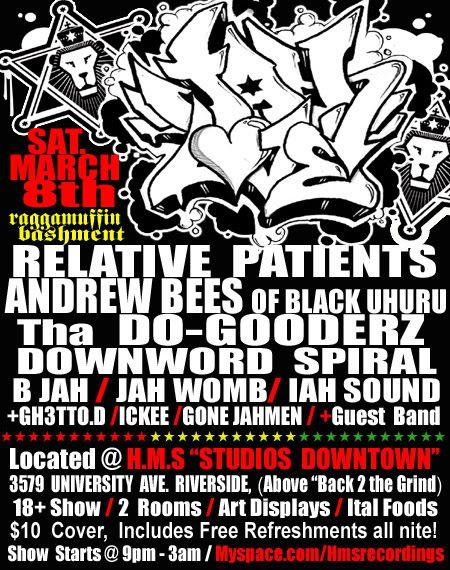 Taken from H.M.S. Recordings:
"H.M.S. Recordings
March, 8 2008 at THE RENEGADE ART AND MUSIC SHOW ANDREW BEES FORMALLY OF BLACK UHURU!
3579 UNIVERSITY AVE., RIVERSIDE, California 92501
Cost : $10.00 W/ REFRESHMENTS
HMS PRESENTS RENEGADE-AN IDEA OF AN ART AND MUSIC SHOW FOR THE MASSES. THE RENEGADE SHOW PLANS TO EXHIBIT ALL GENRES OF ART. FROM UNDERGROUND ARTIST TO THE ARTIST WHO HOLD ANY DEGREES IN ART. ALSO, MUSIC OF ALL GENRES. COME ONE COME ALL. WE ARE GOING TO TRY TO HAVE THE SHOW EVERY FIRST SATURDAY OF EVERY MONTH. THE WEEKEND AFTER THE FAMOUS RIVERSIDE ART WALK WHICH IS HELD EVERY FIRST THURSDAY OF EVERY MOUNTH IN DOWNTOWN RIVERSIDE. IT WILL BE A WEEKEND OF ART AND MUSIC. SO, HOPEFULLY YOU COULD COME AND DISPLAY YOUR ART OR PLAY MUSIC OR COME ENJOY AND SUPPORT A GREAT EVENING OF TRUE ART EXPRESSION. SORRY ABOUT THE MIXED UP WITH THE FLYER! THANKS EVERYONE!"