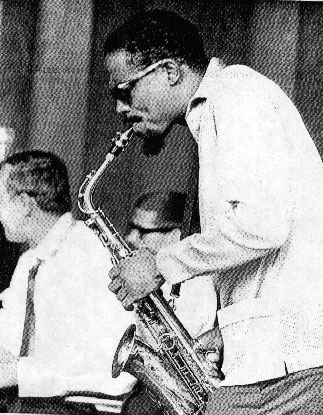 AS POSTED ON DIME
HERE
Eric Dolphy Quartet
Munchen, West Germany
December 1-2, 1961
Magnetic Records MRCD 130
"Live in Germany" - speed corrected
Contrast clause:
Different, much superior sounding version imho from that one seeded earlier
by entmoot: http://www.dimeadozen.org/torrents-details.php?id=180601
and myself: http://www.dimeadozen.org/torrents-details.php?id=182805 (speed corrected)
Drums (cymbals) and also bass clarinet are much more prominent here
than in the other version.
Track order is different from the other release,
also a few of the tracks are more complete here.
All credit should go to peterw for pointing out this version
and for posting a link in the comments thread around my earlier seed
to his upload of this version on the mininova tracker.
I took it from there, did the necessary speed corrections on each track,
and here we go.
line-up:
Eric Dolphy (bcl) McCoy Tyner (p) Reggie Workman (b) Mel Lewis (d)
(info found in http://www.jazzdisco.org/dolphy/dis/c/)
subject to debate, see discussion and comments around previous seed:
http://www.dimeadozen.org/torrents-details.php?id=180601&page=0#startcomments
line-up according to http://adale.org/Discographies/LiveinGermany.html :
Eric Dolphy (bc); Mc Coy Tyner (p); Bob Cunningham (b); Mel Lewis (d)
Setlist:
01 - Softly As In A Morning Sunrise (15:00)
02 - Oleo (18:10)
03 - On Green Dolphin Street (24:10)
04 - The Way You Look Tonight (12:17)
05 - The Theme (0:16)
Total running time (after speed corr.): 69:55 minutes
lineage:
MRCD 130 > EAC > FLAC > mininova seed
> wav > Soundforge 5: speed correction > flac FFE lvl7 w/SBA (381 MB)
speed correction (on mininova upload version):
track 01: first 1:05 OK; remainder -10cts
track 02: +30cts to 0cts pitch bend
track 03: -5cts
track 04~05: -5 to -25cts pitch bend
Artwork scans and orig. EAC log-file included in separate subfolder.
mp3 samples in the comments section
credits:
thanks to peterw for his previous upload
Enjoy !!!
-- flambay