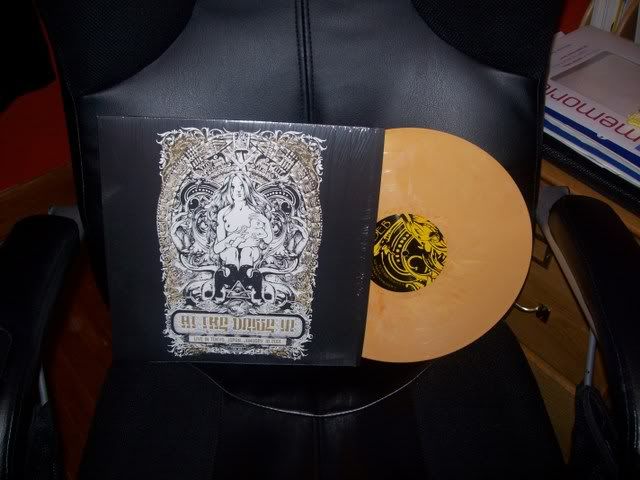 AS POSTED ON THE TRADERS DEN
HERE
At The Drive In - Live In Tokyo Japan, January 18 2001 (Lost Horse Records, catalog #LH-2010, price 2,500 Yen) bootleg vinyl 12" lp (butterscotch/cream swirl pattern) >Technics SL-B350 turntable (refurbished but not modified)>Edirol R-09 (via analog line in)>16 bit stereo WAV>CEP2 (fades,trims,remove most pops/clicks,join/merge side A&B,volume adjustments)>CDWAVE (track splits on sector boundaries)>FLAC via Traders Little Helper (level 8)>bit torrent
Record was cleaned before transfer but some low level vinyl noise is still audible.The recording is taken from the circulating Japanese pro shot video (Shibuya ON AIR EAST), and was just a tad hot at the start of Arcarsenal, but the levels were quickly adjusted by the filming crew. Any edits made by the manufacturer of this lp were left intact.
The album and jacket are very nicely presented, with awesome artwork on the front cover, and as stated above, the vinyl is a butterscotch and cream swirl pattern.
Tracklist (as listed on back of album jacket).
Side A:
1.Arcarsenal
2.Pattern Against User
3.Invalid Litter Dept.
4.Cosmonaut
Side B:
1.Raschuache
2.Sleepwalk Capsules
3.Enfilade
4.Extracurricular
Please do not modify this torrent unless for personal use. Please support the former members of At The Drive In by purchasing ATDI, Sparta and The Mars Volta official output, as well as all related solo projects. Enjoy!
Robducati