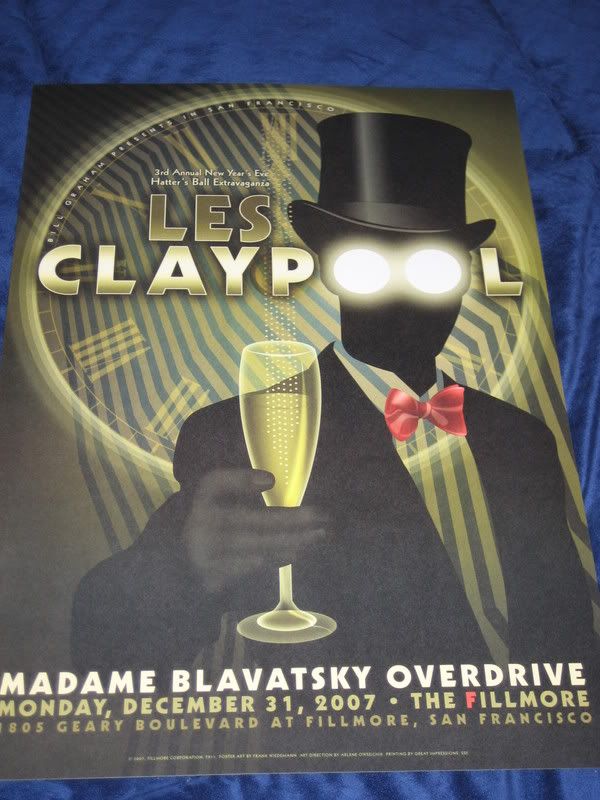 Les Claypool
The "Hatter's Ball"
12/31/2007
The Fillmore Theatre
San Francisco, CA
Taped & Seeded by: Ian Stone (stone.ian@gmail.com)
Source: Schoeps ccm4v>Lunatec v2>Sound Devices 722
(@ Taper section, left of SBD)
Disc 1:
1. Up On the Roof
2. One Better#
3. John the Fisherman
4. Long in the Tooth
5. A Shot in the Dark
6. Precipitation
7. "Game Show Theme" > Costume Contest > "Game Show Theme"
Disc 2:
8. Buzzards of Green Hill
9. David Makalaster%
10. Hendershot > NYE Countdown > Hendershot (with Mark Haggard "Mirv" on Guitar)
11. Octopus Garden (with Adam Gates on Vocals and Mark Haggard on Guitar)
12. D's Diner
13. crowd noise/banter
Encore 1:
14. Iowan Gal
15. Rumble of the Diesel
Encore 2:
16. Lust Stings
# - Voodoo Chile, Highball with the Devil, and Tommy the Cat teases
% - Southbound Pachyderm jam
I grabbed this off etree. I was at this interesting show, and had not seen it here so I thought I would upload it here.