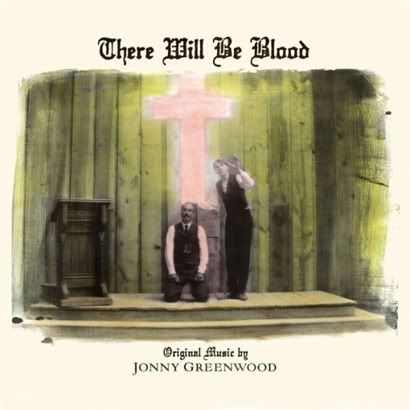 Original Score
Label: Wea/Atlantic/Nonesuch
"Guitarist Jonny Greenwood has composed a hauntingly dramatic instrumental score for Oscar nominated writer-director
Paul Thomas Anderson s ambitious new film, There Will Be Blood. An adaptation of the Upton Sinclair novel Oil!, the movie features
Daniel Day-Lewis in what The Hollywood Reporter has described as a powerhouse performance... it s a certain awards contender.
Greenwood s remarkable compositions, written primarily for strings, have already garnered considerable praise in advance reviews.
The score resembles his rock compositions only in the level of daring and inventiveness to be found throughout these tracks and in the unsettling atmosphere he is able to conjure at key moments. Greenwood s score is more indicative of his current collaborations with the BBC Orchestra as Composer In Residence activities closely followed by Pitchfork Media and The Daily Swarm.
In fact, the score incorporates material from two orchestral pieces he created in that position, smear and Popcorn Superhet Receiver,
which will have its U.S. concert premiere this January when Greenwood appears at the Wordless Music Series in New York City.
There Will Be Blood takes Anderson in a radically different direction than his celebrated earlier films, Boogie Nights and Magnolia dazzling, attention-grabbing movies marked by multiple plot lines, ensemble casts and surreal visual elements. His last project,Punch Drunk Love, was a sophisticated comedy-drama with a smart pop score by composer-producer Jon Brion, released on
Nonesuch in 2002. Anderson s new work is a stark period piece filmed on arid Texas plains; critics have likened it to the brilliantly austere work of such revered directors as Stanley Kubrick and Terence Malick (Days Of Heaven). The Hollywood Reporter called Greenwood s score captivating...greatly contributing to the sense that tectonic forces lie beneath the drama.
The soundtrack to There Will Be Blood will appeal to serious movie-music fans, who will appreciate this rare find: an intelligent, beautiful
and deeply cinematic orchestrated score performed by the BBC Orchestra and London Sinfonietta that can hold its own next to the classic work of such composers as Bernard Herrman, Elmer Bernstein and Ennio Morricone." ~A-ER
Track Listing:
01 Open Spaces
02 Future Markets
03 Prospectors Arrive
04 Eat Him By His Own Light
05 Henry Plainview
06 There Will Be Blood
07 Oil
08 Proven Lands
09 HW/Hope of New Fields
10 Smear
"THERE'S this insistent string motif that sounds like the buzzing of an insect inside one's head, a sound that grows louder and more unavoidably distressing whenever soulless events are about to occur...."