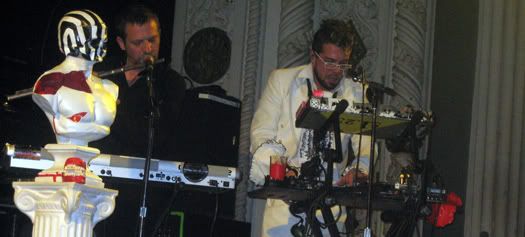 "Subtle's had a bad run. As we've reported in these pages, in the last two years, the genre-bending Oaklend sextet survived a tour van crash that left keyboardist Dax Pierson a quadriplegic, were robbed in Europe, and their major label debut, last year's For Hero: For Fool, received raves from the critics but less-than-breakthrough sales. Subtle's magnetic, magnanimous frontman, Adam Drucker, aka Doseone, has been a cult phenomenon in avant-hip-hop circles for years, but his intricate lyrics and jawd-ropping live performances have yet to find a wider audience.
So what do they do? Keep working. Yell & Ice, a remakes and remixes collection based on For Hero: For Fool, comes out on Lex Records October 23. It features contributions from members of TV on the Radio, Wolf Parade and the Notwist, as well as Anticon associates Why? and Chris Adams of Bracken and Hood. Check out "Deathful", featuring Tunde Adebimpe of TV on the Radio, by clicking on the link below. (The full tracklist for Yell & Ice and Subtle's upcoming tour dates cam also be found below.)
Doseone describes Yell & Ice as a labor of love. "Like fuck it, make it fun for these artists that we're cold-calling, that we love," he said. "We're not paying, there's no money turned around on this record-- which I love-- and so it's like, I send this to you, you should take what inspires you and fuck it up a little bit, ruin it, make it pretty, send that to us, we will do the same, and just keep remaking things. What I like is that it expresses, quietly and in a mature way, how committed we are to the depths in our music. That we can go in and remake all these songs because we made a bunch of rights, and we could've made lefts. And they're just as valid."
We recently spoke with Dose about his upcoming albums and projects, Dax Pierson's recovery, and how a cover of Shellac's "Prayer to God" wound up on Subtle's setlist this year. We also talked at length about the storyline behind the three Subtle LPs, A New White, For Hero: For Fool, and the upcoming conclusion, ExitingARM, which will come out as both an album and a website. And much, much more. Stay tuned to the Features section of Pitchfork, where the full interview will be published within the coming weeks." ~ Pitchfork Media
Yell & Ice tracklist:
01 Falling ft. Why?
02 Middleclass Haunt ft. Dan Boeckner of Wolf Parade
03 Deathful ft. Tunde Adebimpe of TV on the Radio
04 Islandmind
05 Pit Within Pits ft. Markus Acher of the Notwist
06 Cut Yell
07 Not
08 Sinking Pinks ft. Chris Adams of Bracken & Hood
09 Requiem for a Dive