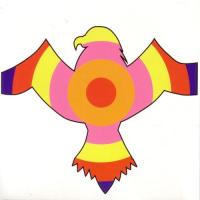 "Latest blockbuster VHF release, featuring two 20+ minute pieces along with the usual selection of punchy pop hits and cover art based on a tattoo design we found in the junky alley near where we live.
"an immense visceral slab of rackety action" VHF website.
"I am sailing the Amazon. I am covered in mosquitos. But I'm having the time of my life. As the sun begins to set and we make our way to shore, I can see fires burning in the distance through the trees. I'd read about how dense the jungle was here, but words rarely do a place like this justice. My heart is pounding at a million miles an hour. If I don't calm down, it might explode. I'm excited and nervous. We're staying in a village that is in the murky depths of the jungle, and surrounded by local tribes. While trying to get to sleep in bed, I can hear some kind of tribal ritual being formed. Drums beat rapidly and the voices resonate into a constant drone. It's calming, in a bizarre way, and eases any fears I have as I fall asleep. This is "Our Head Shone Like a Stone," and is a good metaphor for what Vibracathedral Orchestra's latest album is like." (foxy digitalis)
Label: VHF Records
Released: 2004
Credits: Performer - Adam Davenport , Alex Neilson (tracks: 4, 5, 7) , Bridget Hayden , Julian Bradley , Mick Flower* , Neil Campbell
Notes: Mick Flower is credited as Michael Flower.
Submitted by: egonkey
Tracklisting:
01 Our Head Shone Like A Stone (4:20)
02 Ramshackle Sunrise (19:24)
03 The Silent Socket (2:32)
04 Magnetic Burn (3:59)
05 Visit/Forgive > Either (4:21)
06 Green Ears (3:25)
07 You're Hard To Get (10:02)
08 Immobiliser (2:27)
09 Goodnight Stars Goodnight Air (20:39)