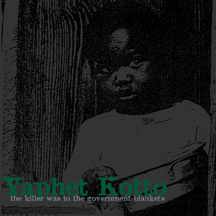 Yaphet Kotto - The Killer Was In The Government Blankets
Label: Ebullition
Release Year: 1999
1) Reserved For Speaker
2) Torn Pictures
3) First Meetings Arrangment
4) Driving Through Natchez
5) Are You Still Working At That Cafe?
6) B and C
7) The Killer Was In The Government Blankets
8) Suffocation
"Originally hailing from Santa Cruz, California Yaphet Kotto come forth with their first 12" release. Their music is perfectly suited to Ebullition. If Yaphet Kotto would have existed four years ago then they would have been playing with Policy of 3, Iconoclast, and Current. Great emotive hardcore with a duel guitar and vocal attack." ~ Ebullition
1) Reserved For Speaker
The forgotten another fifty years to forget again celebration the past is justified for our generation justified segregation from your retired number my wounds open for you years my eyes flood in disgust
2) Torn Pictures
The time evades me when I look to the sky I can't quite describe the feeling that puts a lump in my throat butterflies in my stomach and tears in my eyes I think it's the feelings it's forever gone except for pictures and trophies that hurt so bad
3) First Meetings Arrangment
Seems our situation calls for blood loss but I'll be with you through every struggle giving you wait (so you've read me well you haven't seen nothing yet I've come a long way and the feelings seem to remain the same) giving what you said give me assignments I would drop bombs giving you wait "it's not all I said, your eyes don't burn me anymore you said you'd wait"
4) Driving Through Natchez
I really like this town I've driving right through it what's been said before it's been said what you did impressed with the head count your face spent many days there who blessed them with your presence I don't think you actions where mentioned stay during our death not friends with the residents three struke down and I regret that the drive meant shit what was said before you are what's in
5) Are You Still Working At That Cafe?
Hurts when knowing subversive living left scars upon my hands patriotic path smashed corporate ways haven't tried situations crossed my mind how are things going subversive livings closing doors on you patriotic path smashed different ways gone citizens are tearing parts of you makings sense of their past (they'll never take us all alive; i work too hard to deal with this shit) subversive living leaving scars citizens are tearing a part of you; this wasn't in the job description
6) B and C
Your idle actions killed your revolution and continue to keep talking shit and tell me how fucked the scene has gotten and while my back is turned tell me how fucked I am because you have all the answers this means so much more to me this is my freedom this is my voice and you can't take this from me this burns in my heart you can't it it with you as far as you run you can't take it with you you can't handle the murder
7) The Killer Was In The Government Blankets
Light lit red check the list we're all going down we're all going back through waters so uncharted plymouth rock they talk about
8) Suffocation
Right boot oppresses me making it impossible to breathe one foot placed on my neck and the others welcoming complaints go unheared a simple task not make believe would make them see depending on my strength my outstretched hands never reached you cause you turned the other way majority rules both hands out stretched with no attempt and they don't reach the status quo was planened to make up a place for me the working class denied shown for the last tiime (you took more from me than i gave you) shown if you wait without questioning where the road turns one night might miss my oustretched hands never reached you